5 Grilling Tips & Kebab Recipe
Jun. 2, 2023
/ VASA Admin
We love grilling meats, veggies, and even fruit in the summer. It's a great way to cook food and has minimal clean up! If you're new to grilling or want to improve your skills, check out these five easy-to-follow tips to make every grilled meal a delicious one!
Preheat the grill. Always preheat the grill with the lid down for at least 10 minutes before grilling! This helps ensure an even cook, sears the food properly, and helps keep food from sticking to the grate.
Keep your grill clean. Clean your grill with a stainless steel brush. This helps keep food from sticking and creates a safe and clean cooking environment.
Keep the lid down. Keep the grill's lid down as much as possible to keep the grill hot. This allows for even searing and helps the food stay moist and flavorful.
Turn food once. If possible, only turn your food once. This, combined with grilling at the correct heat, will help the food sear properly, caramelize, and improve the flavor.
Allow meat to rest. After grilling meat, it is important to let it rest for at least five minutes before slicing it. This enhances the flavor and prevents the meat from drying out.
Put your knowledge to practice and grill up these delicious and easy to make kebabs, which require minimal prep time and clean up. They're the perfect summer meal!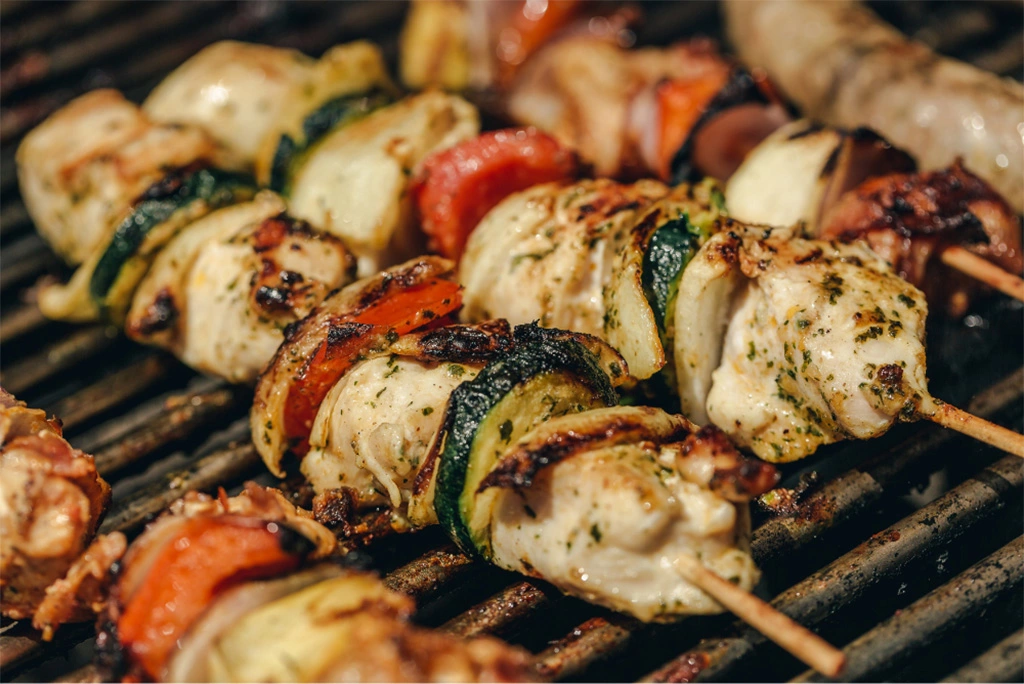 Grilled Chicken and Vegetable Kebabs
Ingredients
1 lb boneless skinless chicken breast (cut into 1 ½ inch pieces)
2 red bell peppers
1 zucchini
1 yellow squash
1 red onion
Marinade
¼ cup olive oil
¼ cup red wine vinegar
1 tbsp honey
1 tsp salt
½ tsp pepper
1 tsp garlic powder
1 tsp Italian seasonings
Directions
Prep chicken and cut all vegetables into 1-inch pieces.
Combine all ingredients for the marinade in a bowl.
Add chicken to bowl, cover, and let marinade for one hour.
Season vegetable pieces with salt and pepper.
Preheat the grill to medium-high heat.
Assemble kebabs by alternating pieces of chicken and all the vegetables.
Grill the kebabs for 10-15 minutes, turning halfway through.
Let rest for 5 minutes and serve!
Tried this and liked it?! Check out some of our other favorite grill recipes and kebab recipes. Plus, if you are wanting to try something new, here are four different marinades for summer grilling and meal prep.