What is fall without pumpkin everything?! From Pumpkin spiced lattes to pumpkin scented candles and décor, you cannot go wrong with pumpkins during this time of year. Pumpkin cookies, muffins, pancakes, and—of course—pie, are a few of my go-to recipes to make for family and friends.
But one thing I love to have sitting on the counter in my glass cake holder is quick bread! Zucchini bread, banana bread—I love them all! So, every now again, especially during fall, I get excited to make moist pumpkin bread to slice and take on the go, add it as a treat to my kids' lunches, or have for dessert in the evening with a scoop of vanilla bean ice cream.
Pumpkin isn't just a fall staple. It can be eaten 365 days a year and is one of the healthiest vegetables around. It's low in carbohydrates, low in fat, rich in fiber, and packed with beta-carotene, which the body converts into vitamin A—essential for eye health and helps protect the skin from harmful UV rays. What's more, it includes vitamin C and zinc, needed for post-workout recovery and to keep the immune system strong. Pumpkin also supports healthy blood pressure and cholesterol. And save those seeds—they can be washed, dried, and sprinkled with salt and pepper (or cinnamon for a sweet treat) and roasted in the oven. Whether you're sneaking this super-food into a quick bread or roasted with other root vegetables, pumpkin is incredibly versatile and easy to add to your diet.
This one bowl, no mixer, no special ingredients, easy-to-make recipe is a personal and family-favorite. I hope you and yours will enjoy savoring its sweet and spicy flavors!
Prep Time: 10 Minutes
Cook Time: 40 Minutes
Total Time: 50 Minutes
Servings: 2 Loaves (10-12 slices per loaf)
Ingredients
½ cup vegetable oil
1 ¾ cups granulated sugar
2 large eggs
15 oz can pumpkin puree (I like Libby's 100% Pure All Natural No Preservatives pumpkin)
2 cups all-purpose flour
1 tablespoon pumpkin pie spice (Try McCormick's found in the baking/seasoning aisle)
1 teaspoon baking soda
½ teaspoon baking powder
½ teaspoon salt
Instructions
Preheat the oven to 325°F. Grease and flour two 8×4 inch loaf pans (I prefer to use cooking spray and Baker's Joy flour).
In a large bowl, whisk (not mix) oil and sugar together. The mixture will look like wet sand.
Whisk in eggs until well-combined.
Add the pumpkin puree and whisk until well combined.
Add in the flour, pumpkin pie spice, baking soda, baking powder, and salt. Whisk until combined, but do not over mix it—this will cause the bread to be tough.
Divide the batter evenly between both loaf pans.
Bake for 40-60 minutes, or until a wooden toothpick inserted into the center comes out clean.
Let the loaves cool in the pans for 10 minutes, and then remove them from the pans and let them finish cooling on a wire rack. Once completely cooled, place the loaves in your desired storage display, slice and ENJOY!!
Pumpkin bread will stay good for about two to three days at room temperature and for about three to four days in the fridge.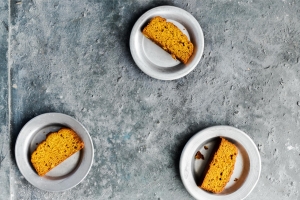 Pumpkin Bread Variations
If you want to add a little extra crunch, sweetness, or vitamins into your bread, add in one cup of any of these ingredients after step 5.
Nuts: Chopped pecans or walnuts
Chocolate Chips: I suggest Nestle Tollhouse semi-sweet morsels for a much sweeter bread; if you want chocolate chips but don't want it to be too sweet, reduce the amount of granulated sugar to one cup
Shredded Carrots: To sneak in extra vitamins and added texture/flavor
Raisins
Written by Angela Gordon, Certified Nutritionist and Fitness Instructor at VASA Littleton