It's the time of year when it seems like everyone is running around. Whether you're training for an upcoming race, want to take up running, or are planning on doing a 4th of July run for the first time– these are the tips for you!
Heather Jensen (@triandrungirl) is one of our #VAWESOME group fitness instructors. Along with teaching fitness classes like power pump and cycle, she has also run 19 marathons and qualified/ran in both the Boston and New York Marathons. Heather, who is also a mom of 3, is no stranger to busy schedules or excuses as she teaches 7x a week, is a full-time mom, and always is training for her races.
To get the BEST tips for runners of all levels we asked Heather for her top tips as a seasoned runner. Through her experience with racing, she wanted to share these tips to help you get started…today! (Also stay tuned for a great treadmill workout that you can adapt to your race length)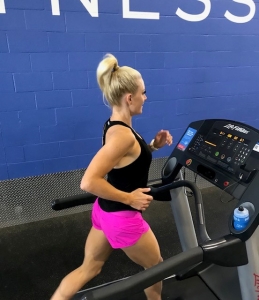 9 Tips to Help You Get Started Training for a Race
Keep showing up!

Training for

any

race is no easy feat. Find time to stick to your runs/workout schedule. Even if it seems slow, you

will

make progress! Keep showing up, and your progress will too.
Show up…even when you don't want to.

On the days that you have low motivation, get up, get dressed, and just

start

. Usually- once you start you will feel more motivated!
Add in Cross-training.

Cross training helps you avoid injuries and strengthen all your muscles. Vary your running days with speed days, tempo days, and long runs. Try one of our great group fitness classes like Yoga or Pilates to help with stretching and flexibility training and try Power Pump or working with one of our coaches to add in strength training.
Build gradually.

Get or make a plan, create a schedule, and

stick to it

! Don't look ahead too far and doubt yourself. Take it one week at a time and

slowly

build your body up to longer and faster runs.
Wear the right gear.

Get specific running shoes and cross training shoes. Wear running clothes so you are comfortable during your workout. Having the right gear will help

motivate

you! Some great running basics- running shorts/shirts, compression socks, fanny pack, running watch or phone app (to track your runs).
Get a good playlist or podcast.

Make a playlist or find a podcast that is

only

for your runs.

Find music that pumps you up, not only will this help you be excited about your run,

but

it can help improve your cadence. Make different playlists for different types of runs.
Sign up for a race.

When you make a

commitment

, you are more likely to stick to your plan/schedule. Commit to your scheduled training times each week. Come in and use our KidCare while you workout!
Find your support system.

Tell your family and friends your goal. Find a training partner. Having a support system will help keep you accountable and motivated!
Rest.

Having a rest day or week is

so

important for your body. Running and training for races is hard work and your body needs a break. Resting is important in preventing injuries and healing. Come in and check out our sauna, spa, and foam roll to have a good recovery and rest day.
Treadmill Interval Running Workout
0.5-1 mile warm up (easy effort)

30 sec (moderate effort) and 30 sec (easy effort) — repeat 3-4x

45 sec (hard effort) and 45 sec (easy effort) — repeat 2-3x

1 min (max effort) and 1 min (easy effort) — repeat 1-2x
Repeat until your mileage is reached depending on your level/race.
Want more running tips, tricks, and motivation? Check out Heather on Instagram @triandrungirl and come into the gym for all your treadmill and cross-training needs!