Easy Ways to Halt the Flu Before it Hits Home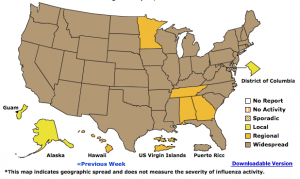 This year we are experiencing an intense flu season. In this map, you can see that it's widespread across the country.
The symptoms are severe and can be fatal, but the positive part is that we can do things to prevent catching and spreading it.
Simple ways to protect yourself from catching and spreading the flu virus.
Wash your hands often with soap and water for at least 20 seconds. This healthy habits trumps using hand sanitizer.
Avoid touching your eyes, nose, or mouth. Flu germs spread this way!
Avoid close contact with sick people. Send your well wishes via texts for a few days 🙂
Practice good health habits. Get good sleep and mild exercise, manage your stress, drink plenty of water, and eat healthy food.
If you are sick with the flu, stay home for at least 48 hours after your symptoms are gone. It's not worth it to get other people sick.
5 Foods that Help Boost Your Immunity
What we eat is directly related to our health! And certain vitamins help increase the number of white cells in our blood, which boost our immunity. Eat more of these to your meals!
Grapefruit and other citrus fruit for Vitamin C: Try bell peppers, broccoli, cabbage, grapefruits, spinach, and sweet potatoes too for a boost of this potent antioxidant.
Tomatoes for Vitamin E: Vitamin E is also a powerful antioxidant which can also be found in hazelnuts, almonds, and spinach.
Winter squash for its carotenoids: Carotenoids give foods that orange-color and protect cells against disease. Carotenoids can also be found in vegetables like carrots, bell peppers, and spices like cayenne pepper.
Brown rice for selenium: Your body needs this mineral in trace amounts to help reduce inflammation. You can find selenium in Brazil nuts, sunflower seeds, barley, and oatmeal.
Nuts like almonds for zinc: Another essential mineral needed for normal cell function and can find zinc from delicious sources like dark chocolate, pumpkin seeds, and sesame seeds or tahini.
Proper nutrition can keep your immune system strong, allowing you to fight off any germs you come in contact with.
If your intestinal flora is balanced, your immunity will strengthen. It's also a good idea to avoid processed sugar and foods that decreases immunity and causes spikes in blood glucose. This is all stressful on our bodies.
Health starts with you! When you're healthy, you increase the health of the community. Share this article with you friends and let's push through this flu season with strength!
If you need a meal plan that'll help strengthen your immunity, check out foodisourfriend.com.
Share in the comments: What are you favorite immunity boosting foods to eat?