The gym can be a scary place if you've never stepped inside one, and it can be the most rewarding place once you get into a routine that supports your goals and schedule. Here are five tips to help you walk into the gym feeling confident and ready to tackle your 2024 fitness resolutions.
Have a plan: Determine what days and times you have available to spend 30 to 60 minutes at the gym. Set your clothes out the night before so you aren't rushed when it's time to work out. It's easy to talk yourself out of doing something uncomfortable when you don't have a plan in place.
Start with familiar exercises: This could be walking on a treadmill or jumping rope or doing dumbbell curls. Using exercises that you've done before is a great way to get going at the gym and make progress.
Focus on yourself: Your body, your muscles, your breathing. It's easy to think people are looking at you when you don't feel confident, but most gym goers are also focused on themselves and completing their workouts. Most members are helpful, too, and happy to answer any questions you have. We were all beginners once! A good pair of headphones and a great playlist can help, too.
Find a friend: Having a companion at the gym can motivate you to get to the gym and help you feel more at ease as you learn the layout, the machines, the classes, and other amenities available to you. When you have someone to work out with, you'll have a motivator, accountability partner, and friend all rolled into one!
Start small: Of all the tips, this is the most important. Think of every trip to the gym as a deposit in your savings account, it adds up over time. Remember fitness is a journey, not a destination, and every step taken in the right direction will pay off over time.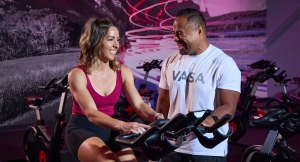 Anxiety about going to the gym is common and eases the more times you visit. You'll start to see familiar faces, become familiar with the equipment and classes, and feel confident as you become strong. Be patient and celebrate small victories along the way!
If you're still having trouble getting to the gym or feeling nervous, set up time with one of VASA's friendly and approachable Personal Trainers who can help create a plan with you so you can reach your goals and enjoy your time in the gym.