Planning to host family or friends this holiday season? Knowing what to make for a big group can be challenging—and time consuming. Focus on simple and healthy recipes that feed a lot of people. We've compiled an easy-to-make, four-course dinner for 12 people so you can spend less time in the kitchen and more time enjoying the company around you!
Appetizer: Mini Muffin-Tin Quiches with Smoked Cheddar and Potato
Low calorie, low carb, gluten-free and vegetarian, these mini quiches from Eating Well, are sure to please any taste buds, adults and kids alike! They are the perfect bite of potato, cheese and greens—satisfying enough to hold you over until the main dish is served and without ruining your dinner. Feel free to double the recipe if you want your guests to be able to enjoy more than one.
Ingredients:
2 tablespoons extra-virgin olive oil
1 ½ cups finely diced red-skinned potatoes
1 cup diced red onion
¾ teaspoon salt, divided
8 large eggs
1 cup shredded smoked Cheddar cheese (for a healthier option, reduce to ½ cup or choose a low-fat option)
½ cup low-fat milk
½ teaspoon ground black pepper
1 ½ cups chopped fresh spinach
Directions:
Preheat oven to 325°F. Coat a 12-cup muffin tin with cooking spray.
Heat oil in a large skillet over medium heat. Add potatoes, onion, and ¼ teaspoon salt. Cook, stirring until the potatoes are just cooked through, about 5 minutes. Remove from heat and let cool 5 minutes.
Whisk eggs, cheese, milk, pepper and remaining ½ teaspoon salt in a large bowl. Stir in spinach and the potato mixture. Divide the quiche mixture evenly among the prepared muffin cups.
Bake until firm to the touch, about 25 minutes. Let stand 5 minutes before removing from the tin.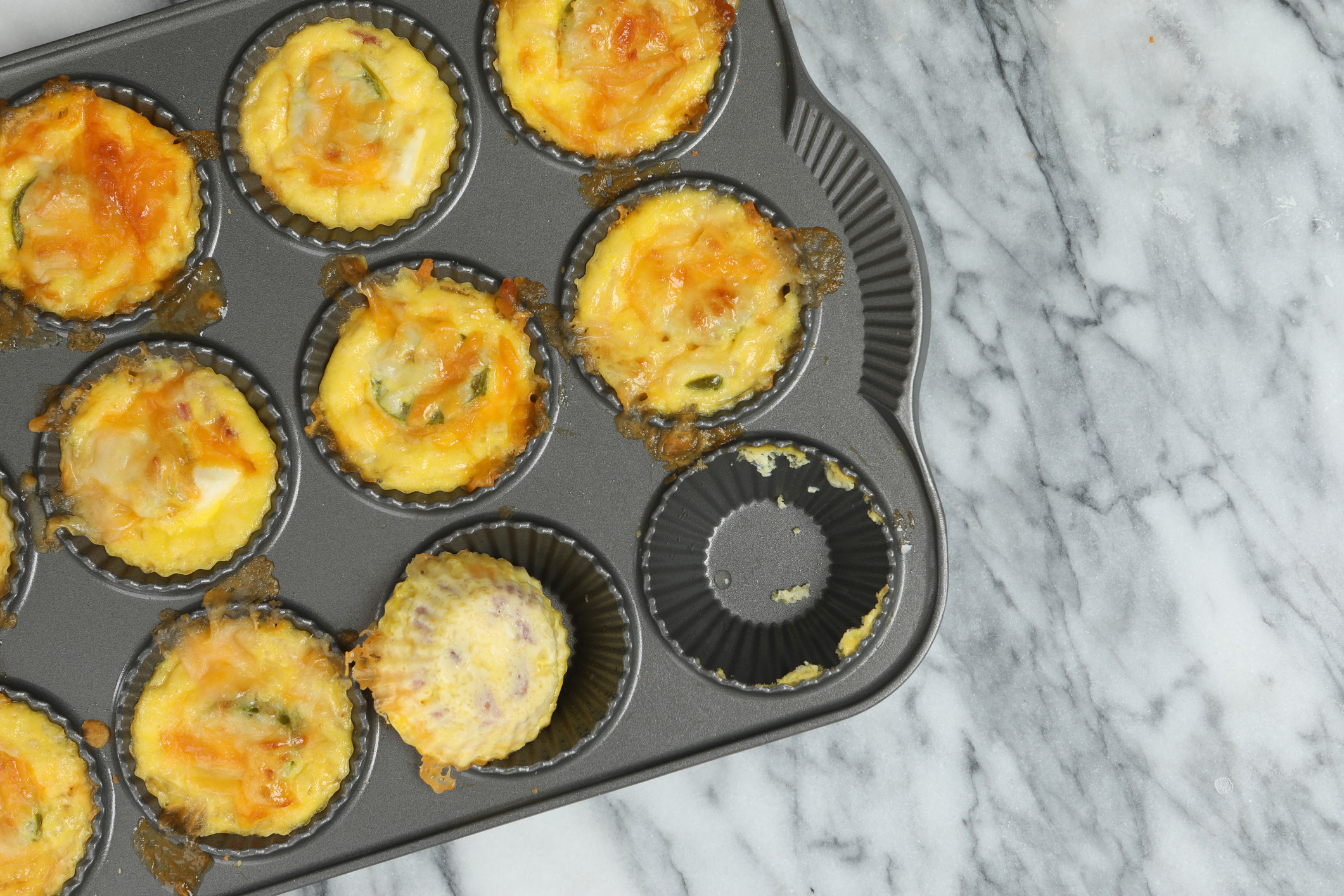 Mini Muffin Tin Quiches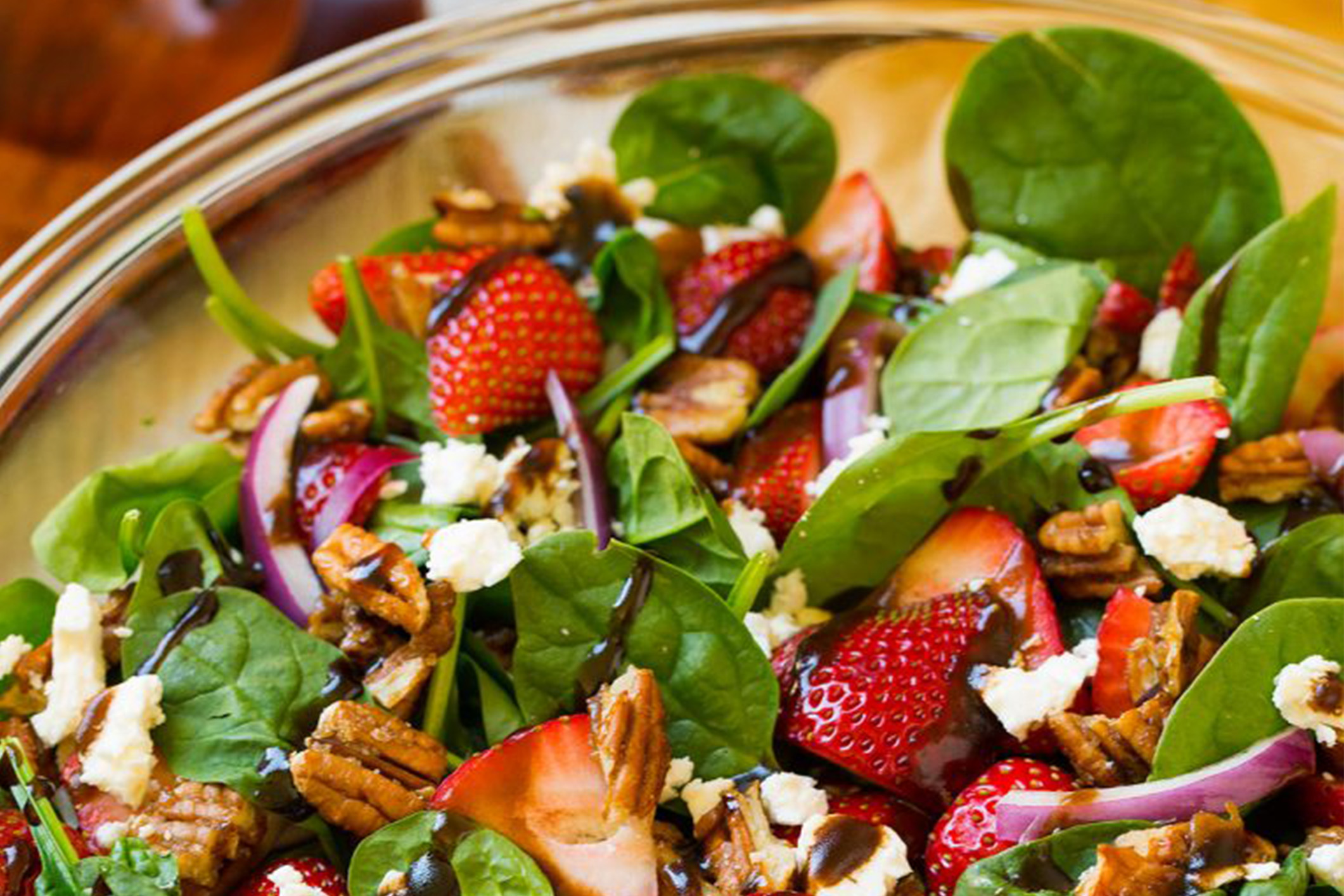 Strawberry Spinach Salad. Image Courtesy of cookingclassy.com
Salad: Strawberry Spinach Salad
This colorful Strawberry Salad is packed with flavor and sure to be a crowd pleaser with everyone in the room! The red strawberries on top of the green spinach look festive, and it's loaded with nutrients and antioxidants. This salad is extremely simple to make and one of my favorites because it pairs perfectly with just about anything.
Ingredients:
1-2 bags fresh green spinach (depending on the size of crowd)
1 red onion, sliced
1 case fresh strawberries, cut in halves
8 oz feta
1 cup raw or toasted pecans (for added sweetness, you can use candied pecans)
Balsamic Vinaigrette (I prefer Ken's Steak House Lite Dressing)
Directions:
Toss together spinach, strawberries, half of the feta, red onion and pecans. Drizzle about ½ cup of the dressing over salad, then plate and drizzle remaining dressing (if desired) over individual portions and top with remaining half of the feta.
Visit Cooking Classy to learn how to make your own homemade Balsamic Vinaigrette and candied pecans!
Main Dish: Easy Chicken and Rice Casserole
Looking for an easy, feel-good, one-dish holiday meal? The genius of this recipe is that everything cooks together at once, making cooking and clean up a breeze! Enjoy this literal dump-and-bake recipe from Delish that can easily be adjusted to serve a smaller or bigger group!
Ingredients:
Extra-virgin olive oil, for baking dish
6 cups white rice, rinsed well and drained (2 cups per dish)
3 large onions, chopped
6 cups low-sodium chicken broth (2 cups per dish)
6 (10.5-oz.) cans cream of mushroom soup (2 cans per dish)
Kosher salt
Freshly ground black pepper
12 large bone-in, skin-on chicken thighs, about 2 lb. (4 thighs per dish)
6 tablespoon melted butter (2 tbsp per dish)
6 teaspoon fresh thyme (2 tbsp per dish)
3 clove garlic, finely minced (1 clove per dish)
3 tablespoon freshly chopped parsley, for garnish (3 tbsp per dish)
Directions:
Preheat oven to 350°F and grease three 9″-x-13″ baking dishes with oil. Add rice, onion, broth, and soup to each dish and stir until combined. Season with salt and pepper.
Place 4 chicken thighs skin side up in rice mixture in each dish and brush with melted butter. Sprinkle with thyme and garlic and season with salt and pepper.
Cover dish with foil and bake for 1 hour. Uncover and bake 30 minutes more, until rice is tender and chicken is cooked through. Turn oven to broil and broil until chicken is golden, about 3 to 5 minutes.
Garnish with parsley before serving.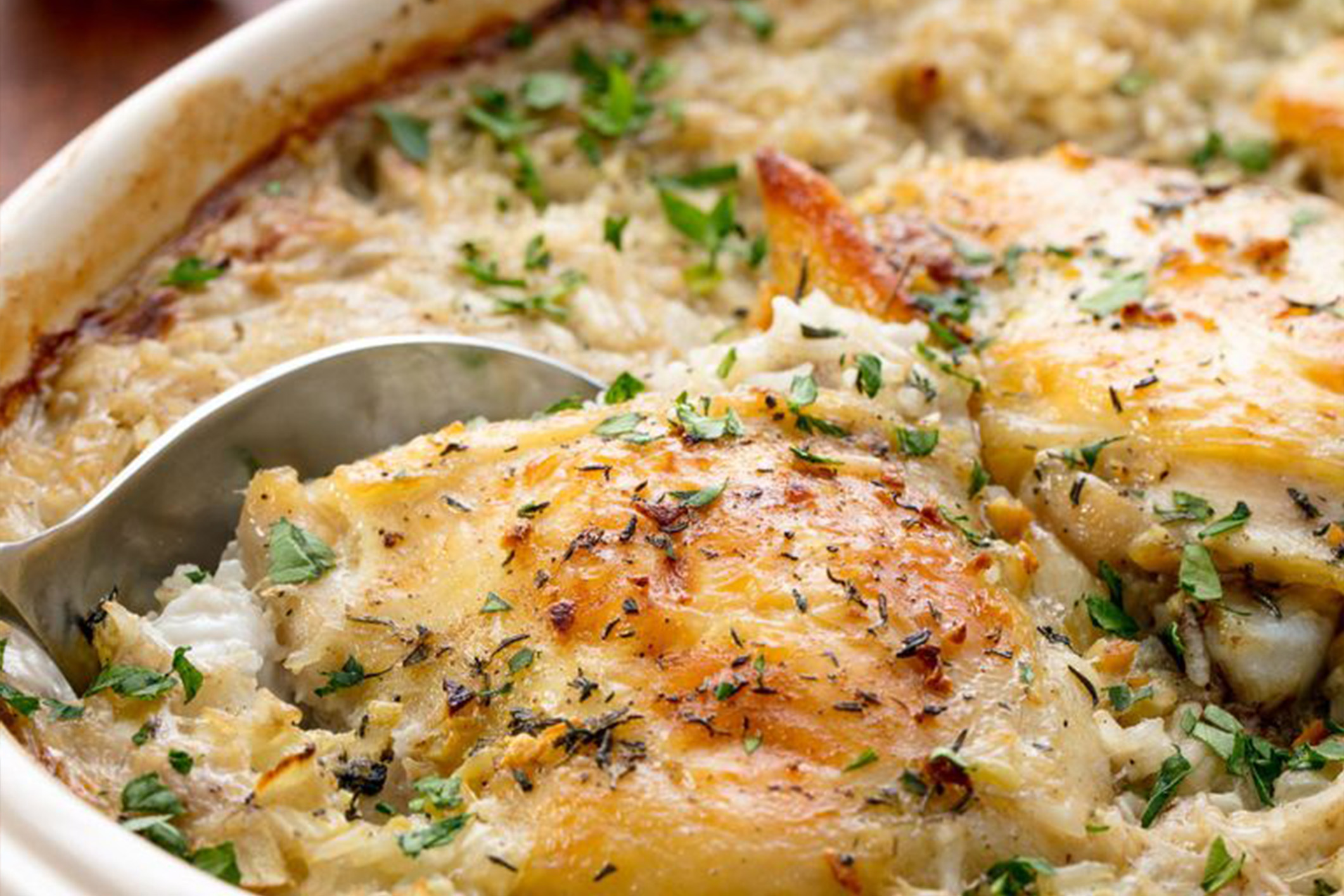 Chicken and Rice Casserole. Image courtesy of Ethan Calabrese from delish.com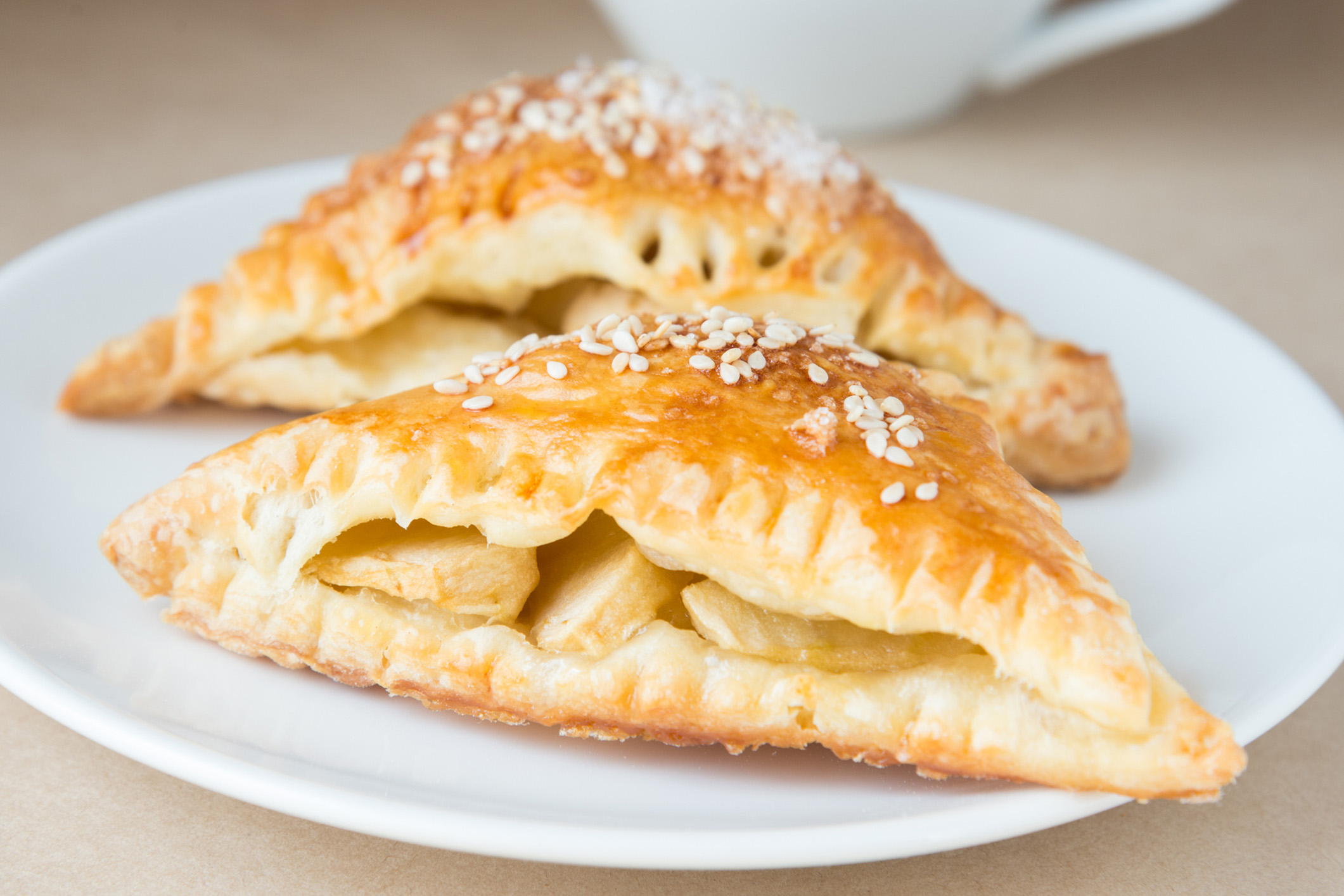 Apple Turnovers
Dessert: Apple Turnovers
Skip the traditional apple pie and try wrapping apples in a warm, cozy blanket of puff pastry! You can't go wrong with transforming the always reliable store-bought puff pastry into a sweet and savory apple treat that is sure to become a family favorite. Visit Eat This, Not That! for the original recipe plus puff pastry tips!
Ingredients:
Flour
6 sheets puff pastry, thawed
3 cup water
1 ½ cups sugar
9 Granny Smith apples
3/4 teaspoon ground cinnamon
3/8 teaspoon ground ginger
3/8 teaspoon ground nutmeg
Juice of 3 lemon
3 egg white, lightly beaten
Directions:
Generously flour a working surface. Roll the puff pastry into 9″ x 15″ rectangles. Cut the pastry into 18 equal squares. Refrigerate until needed.
Bring the water and sugar to a boil in a large saucepan.
Peel and core the apples; cut into 1⁄2″ chunks. Toss the apples with the cinnamon, ginger, nutmeg, and lemon juice, then add to the sugar mixture and simmer until the liquid thickens, 5 to 7 minutes. Set aside to cool.
Preheat the oven to 425°F.
When the apple mixture cools, spoon 2 to 3 tablespoons of apples onto the puff pastry squares, off center. Fold the pastry over the apple filling to make a triangle and seal the perimeter by pinching the edges or pressing the tines of a fork into the dough.
Place the turnovers on a baking sheet and brush with the egg white. Bake until the dough is crispy and golden brown, 12 to 15 minutes.
Angela's tip: Dust with powdered sugar or sprinkle sesame seeds on top for a little extra decoration.