Working out in the winter isn't always convenient—or motivating. Cold temps, sleet, and snow are usually reasons to stay inside, not venture outside for a jog around the block or brave the roads to get to the gym. But being cooped up inside isn't fun either and burning off a little energy is good for the mind and soul. So how do you create a dedicated workout space at home? We've tapped our Director of Facility Design, Hilleary Steckler, for tips and tricks on how to create an at-home gym experience.
Find the right location.
Determine if you want your space to be in a private room (away from spouses, kids, and pets) or in an open area so you can invite your family to join you. Then, decide if you want the space to be inside or out. For those of us who don't live in cities of endless summer (we're looking at you, Arizona), a backyard yoga sanctuary might not be feasible year-round so a covered location (with heat) might be preferable. Finally, consider what types of activities you'll be doing. Do you love HIIT- or dance-style classes that include a lot of jumping and moving around? Think about using your basement or the garage for your personal studio.
Use paint, mirrors, and décor to create an atmosphere that matches your workout style.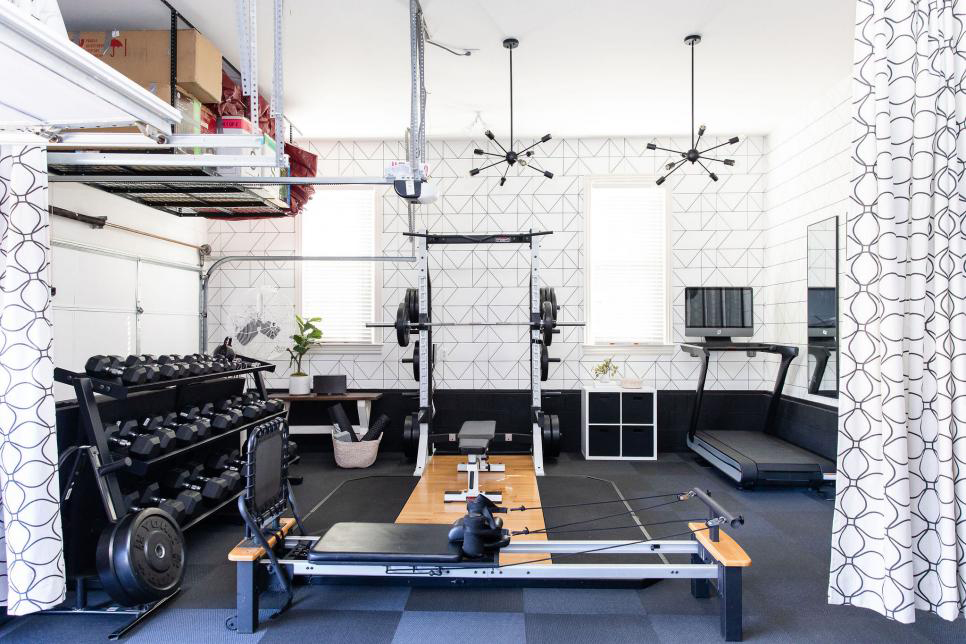 We love this garage-turned-gym set up. The wallpaper, rubber floors, and curtains completely transform the space into a fun workout room.
Size matters.
How many people will be using this space at any given time? Do you need to store equipment? Will you be doing more than one activity? Do you need an outlet to power a TV, computer, tablet, or stereo?
Find a space that allows you to freely move without feeling constricted or boxed in. Try moves like burpees, shoulder extensions, shoulder presses, and lunges to make ensure you have enough room above and around you. Try to avoid clutter and maximize space by storing equipment like mats, bands, and weights in baskets, on shelves, or in lockers. We also love hydration stations: Have a water bottle ready to go or set up a bar cart with water, fresh towels, disinfecting wipes, and a portable speaker. And don't forget circulation. Being able to open a window or having space for a fan is key.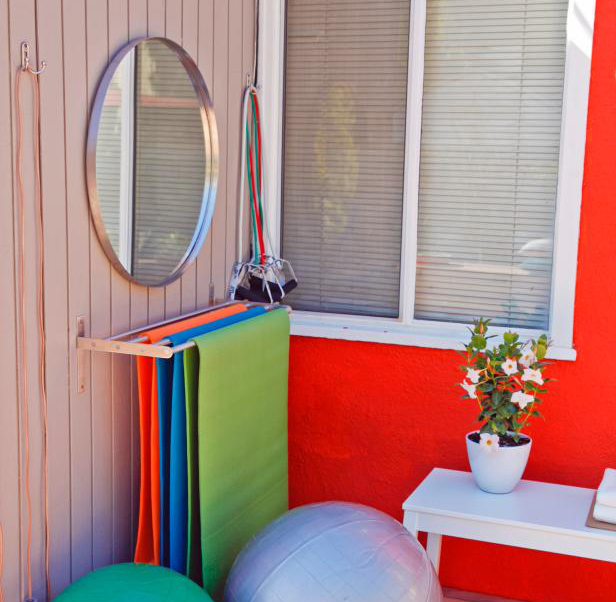 Use towel racks to hang mats and hooks for jump ropes and resistance bands.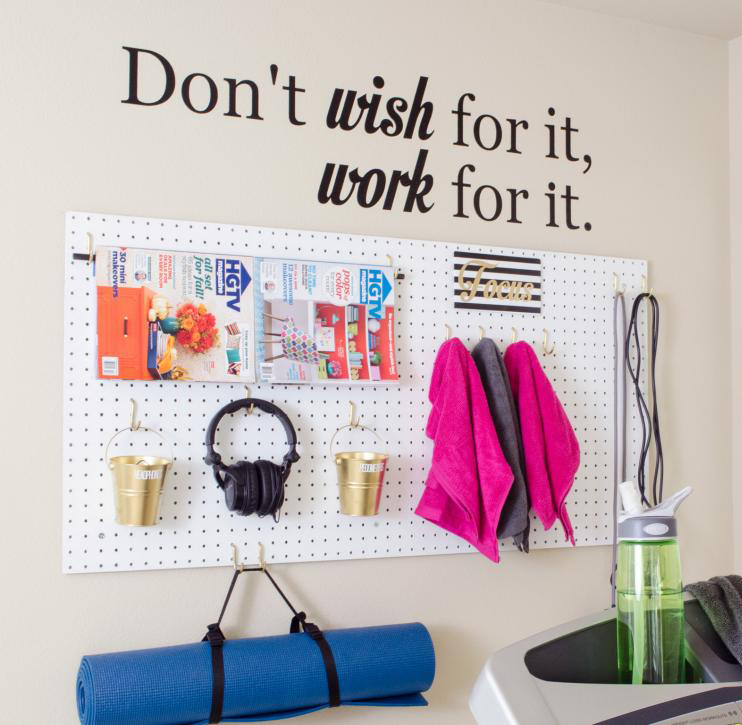 Peg boards are a great way to create additional storage and get equipment off the floor.
Set the mood.
Make sure this is a space you want to come to. It should feel welcoming and motivating. A little paint goes a long way: use bright, vibrant colors for a high-energy space or a neutral palette to create a calming atmosphere. If you don't have access to natural light, hang string lights, add a floor lamp, or install a ceiling fan with lights. Mirrors also make a space feel bigger (and a great tool to ensure good form). Decorate with plants, candles, motivational artwork, or a white board calendar so you can schedule your workouts. And don't forget about flooring. You'll want a softer base for activities like yoga and core work—add a rug or work out in a carpeted room. If you prefer to lift weights or have a lot of equipment, consider installing rubber flooring or using a space with concrete or vinyl floors.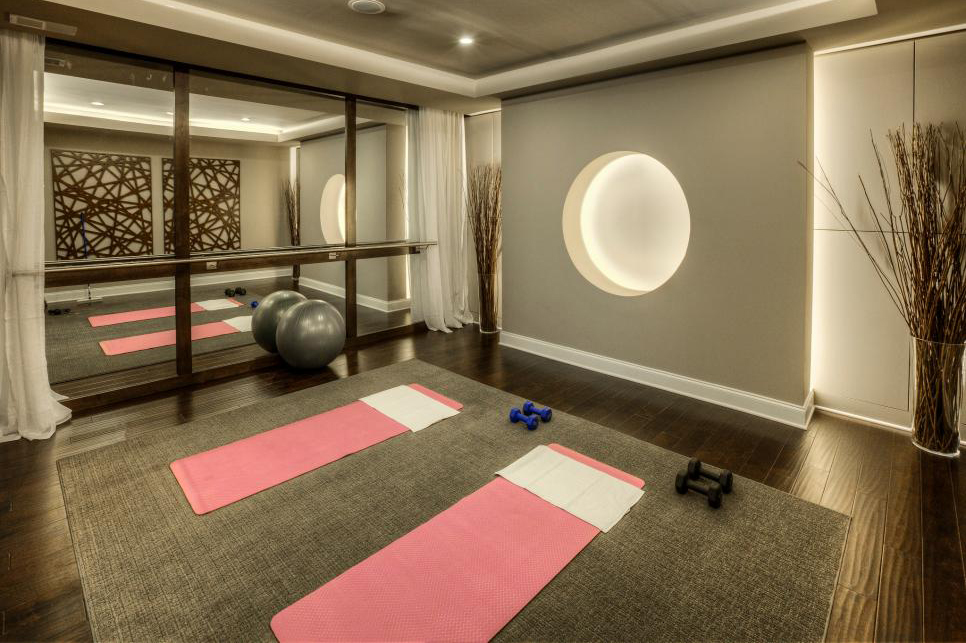 Dim lighting creates a zen space for at-home yoga practice.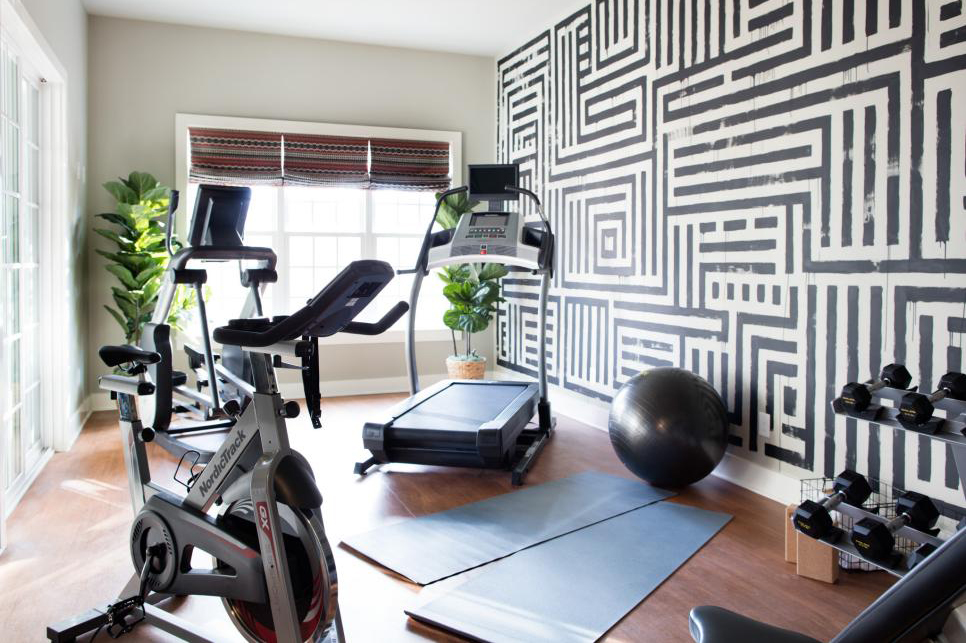 Make a statement with wallpaper. Plants and natural light bring the outdoors in.