Healthy Protein-Packed Pasta Salad
Apr. 19, 2023
/ VASA Admin
Pasta salad is an easy dish to meal prep and enjoy throughout the week, pack for a picnic, or serve during a family get-together. Swap standard pasta for chickpea pasta to lower the gluten index and add chicken for an extra punch of protein. With over 30 grams of protein per serving, this is a pasta dish you'll be making time and time again!
PASTA SALAD INGREDIENTS
8 oz Rotini Chickpea Pasta, Cooked
12 oz Cooked Chicken, Chopped
½ cup Cherry Tomatoes, Halved
¼ cup Yellow Onion, Diced
½ cup Black Olives, Sliced
1 cup Red Peppers, Diced
1 cup Kale, Shredded
½ cup Shredded Parmesan Cheese
DRESSING INGREDIENTS
¼ cup Olive Oil
2 tbsp Red Wine Vinegar
1 tsp Lemon Juice
½ tsp Honey
¾ tsp Garlic Powder
½ tsp Oregano
½ tsp Basil
½ tsp Parsley
¼ tsp Salt
¼ tsp Pepper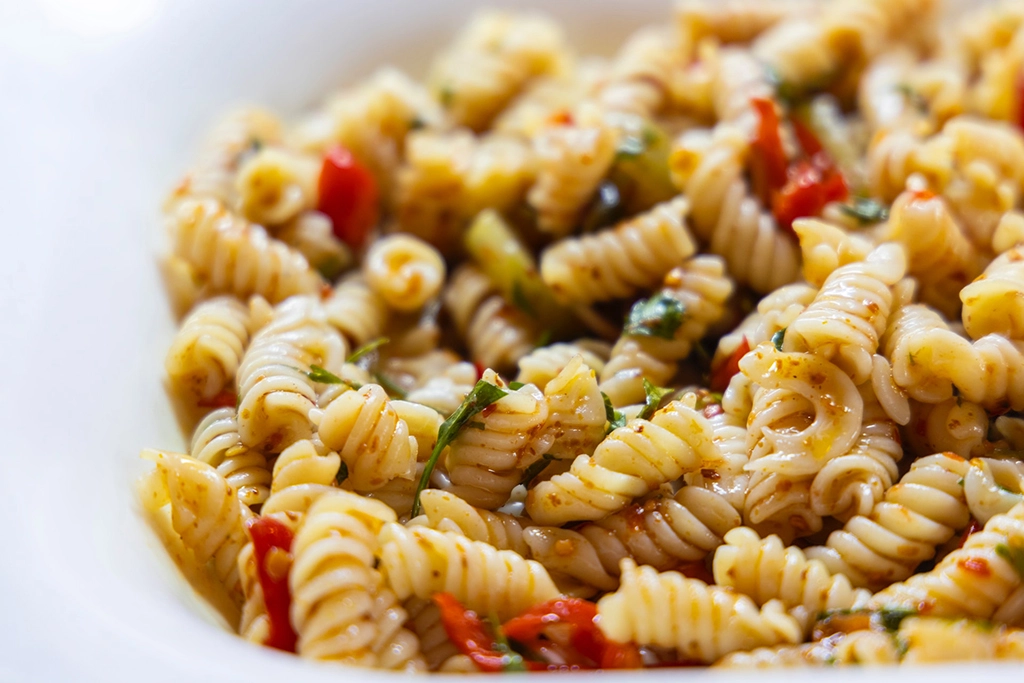 DIRECTIONS
In a small bowl, combine all the dressing ingredients and mix with a whisk until well combined.
Cook the pasta based on the instructions on the box and set aside to cool.
Bake or grill the chicken. Cut the chicken into bite-size pieces and set aside.
Halve the cherry tomatoes, dice the onions and peppers, slice the olives, and shred the kale.
In a large bowl, combine all the pasta salad ingredients and top with the dressing. Mix until all ingredients are combined. Serve right away or store it in an air-tight container in the refrigerator.