Being "fit" can mean something different for everyone. Regardless of your definition, though, it's important to treat our bodies well. We only have one, after all.
With more sedentary lifestyles, easy access to fast food and takeout, and large portions, eating the right kinds of food—and the right amount—can be challenging. Eating correctly, however, can not only help you stay fit, but help you avoid things like cardiovascular disease, hypertension, and Type 2 diabetes––three of the most common public health issues we see today.
A great step towards better overall health is to eat filling, nutritious meals. Opt for colorful produce, lean proteins like fish and chicken, and complex carbohydrates including whole grains, rice, and sweet potatoes. Eating well-balanced, nutrient-rich, and minimally processed meals will reduce your need to snack and ensure you get vitamins, minerals, and protein to keep your body fueled and functioning well. Here are a few of our favorite meals to help you get started!
Roast Chicken
This is an easy meal that requires minimal prep. Place a whole chicken on the wire rack of a roasting pan. Rub the bird with your favorite seasonings (we like dried ground oregano, thyme, rosemary, cumin, light soy sauce, or simply salt and pepper to taste) and cover it with tin foil. Pop the bird into the oven at 350 degrees F for 1.5-2 hours. Prior to taking it out of the oven, stick an internal thermometer into the thickest part of the bird to ensure the internal temperature is 165 degrees F. You can remove the foil for the last 10-15 minutes to brown the chicken.
Now that you have a whole bird, you can use it in a variety of ways! Try chicken salad, chicken sandwiches, or add it to a salad. You can even make a healthy chicken pot pie! However you choose to enjoy it, this lean protein is going to keep you happy and full.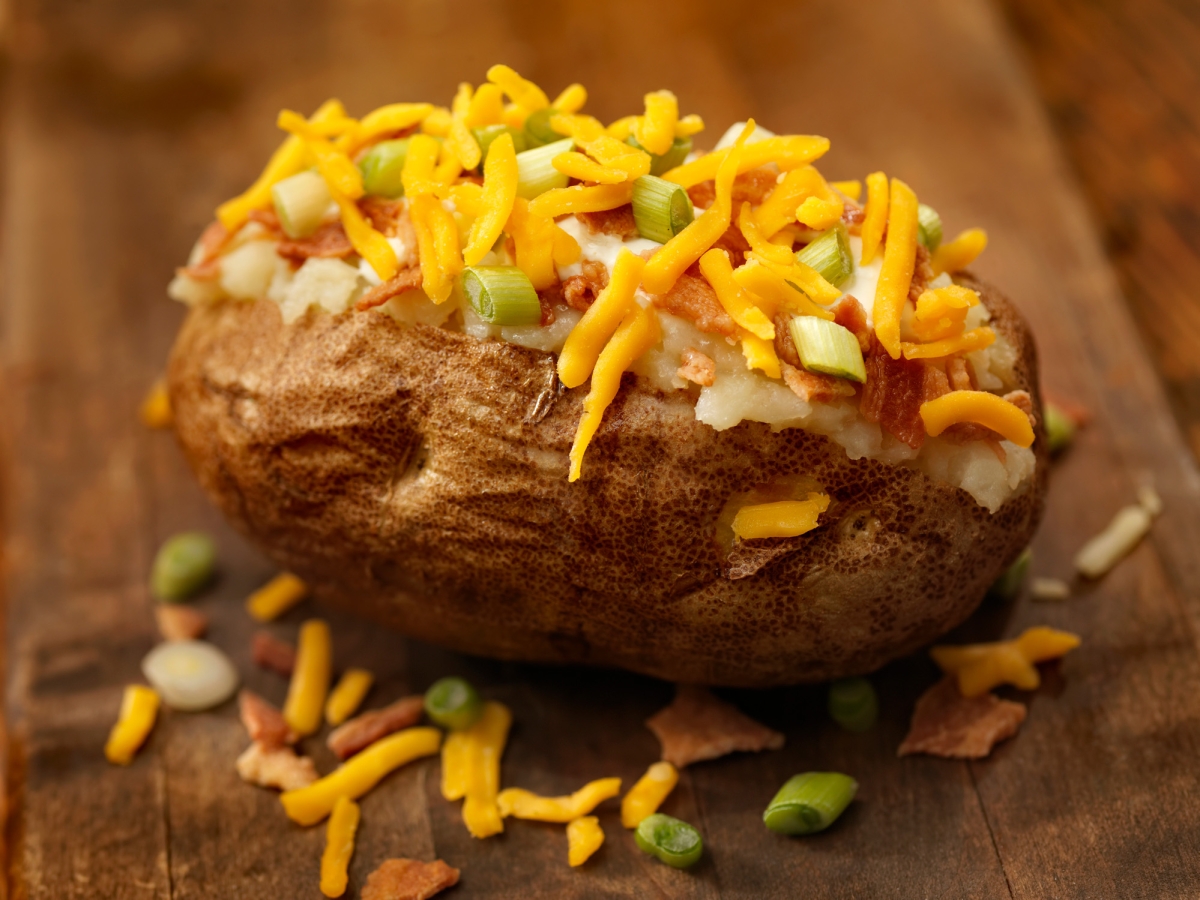 Cheese, chives, broccoli and bacon are great toppings for a baked potato.
Add your favorite fruit, nuts, and seeds to overnight oats.
Loaded Baked Potatoes
Who doesn't love potatoes? While highly refined carbs such as white bread and potato chips don't keep us very full, whole foods like unprocessed potatoes do. Follow your favorite baked potato recipe –– we love this one from Love & Lemons. Once your potato is cooked through, cut it in half, mash up the insides with a fork, and add your choice of toppings: grated cheese, bacon bits, chives, Old Bay seasoning, and/or a small dollop of sour cream. You can also opt for healthier toppings like finely chopped broccoli, grated carrots, and turkey bacon. Everything goes with potatoes, so it's hard to go wrong.
Overnight Oats
Don't feel like cooking at all? Too hot to even think about turning on your stove? Overnight oats are a great solution! The recipe is simple: Add oats (any style is fine) to a jar and add enough liquid so your oats are covered. You can use milk, water, yogurt or a combination. Then add your toppings: honey or agave, chia seeds, berries, bananas or other fruit, nuts, cinnamon—the options are endless. Put the lid on, shake up your jar, and stick your oats in the fridge overnight (or for a minimum of six hours). This is an extremely versatile, filling meal that requires a little prep the night before but makes breakfast the next day as easy as unscrewing a jar and digging in.