What to Eat Thanksgiving Morning
Oct. 4, 2023
/ VASA Admin
Thanksgiving is notorious for over-indulgence at lunch and dinner. Many families also include rich breakfast options prior to the main dinner. Type into any search engine "thanksgiving breakfast" and you'll get fancy French toasts, pancakes, and casseroles to feed a crowd. So how do you avoid eating too much throughout the big day? It starts with breakfast!
Breakfast on any non-holiday usually starts with a good protein source and is complemented with some carbs and fats to help tide you over until lunch. The same is true for Thanksgiving breakfast—with one exception. If you're planning on trying every cake and pie on the dessert table or hovering around the starchy hors d'oeuvres, skip the carbs at breakfast. By keeping your breakfast choices centered around protein, you'll stay satisfied for longer and will be less likely to snack on all the tempting goodies.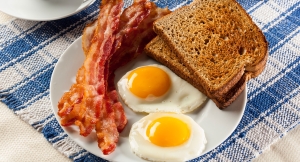 Here are a few examples of a protein-rich Thanksgiving breakfast:
TRADITIONAL BREAKFAST
3 eggs
2 slices of toast
2 pieces of bacon
PROTEIN SHAKE OR SMOOTHIE
Check out these two great smoothie recipes that are full of protein and taste delicious
YOGURT PARFAIT
1/2 cup Greek yogurt
1/2 cup fresh fruit
2 Tbsp granola
The key to not overeating later in the day is to eat a good breakfast. Fasting in the morning to save more calories for later in the day can actually lead to overeating. Drink plenty of water, eat a protein-rich breakfast, and have a great day spending time with your loved ones!