Leftover Thanksgiving Turkey Recipes
Oct. 27, 2021
/ Julia Price
It's the day after…no let's back up a little bit. It's the night of Thanksgiving, the fun is done, family and friends have gone, and you may be left with more food than anticipated. Your first thought is, "I've got this," as you pack full every container you own and shove them in the fridge, despite your best efforts to pawn leftovers off on guests as they walked out the door. The dressing, mashed potatoes, green bean casserole, corn, candied yams, cranberry sauce, gravy, and pies all fit—but then you turn around and see that entire roasted turkey left sitting in the middle of your beautifully decorated dining room table! You think to yourself, "What am I going to do with all of this leftover turkey?"
Don't worry—I'm here to help! The day after Thanksgiving is a great day to enjoy leftovers, making the holiday last a little longer, but eating leftovers for days on end can get tiring. Turkey is a versatile food and an excellent source of lean protein, so it'd be a shame to throw it out. Check out these five delicious and easy-to-make recipes for your leftover Thanksgiving turkey.
Turkey Casserole
This recipe from NumstheWord.com not only allows you to use leftover turkey, but also the stuffing, gravy, and veggies along with a few pantry/freezer items! It's an easy way to make and serve up a quick meal that the whole family can dig into for the next couple of days. Prep tie and cook time are minimal, too.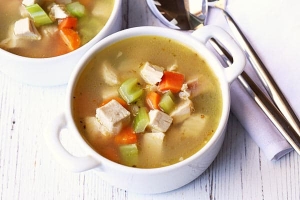 Image courtesy of HealthyRecipesBlogs.com
Turkey Soup
You can't go wrong with enjoying a hot, comforting bowl of soup in the cooler days that typically follow Thanksgiving. This could also be the cure for those common sniffles that tend to linger around this time of year. Turkey meat, bones and the skin make a rich, flavorful broth after being simmered over several hours in a Crockpot. You can add your choice of veggies (carrots and celery are my favorite), and noodles if you like (I'd suggest Rigatoni or Rotini, those fun spiral noodles). This can be served as a main dish for dinner with cornbread or biscuits, or you can have the soup by itself for lunch. Check out the full recipe from HealthyRecipesBlogs.com.
Turkey Sandwiches
One of the simplest and tastiest ways to give that leftover turkey new life is by making this delicious breakfast/brunch sandwich from TheFlavorBender.com. Gently steam the turkey in the oven to bring back the juicy flavor from Thanksgiving. Add gravy, cranberry sauce, and veggies—or whatever else you'd like. This is an adaptable sandwich and a family crowd-pleaser.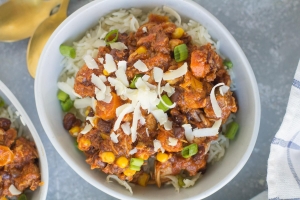 Image courtesy of TheCleanEatingCouple.com.
Turkey Chili
Besides the turkey sandwiches, this is, in my opinion, one of the best turkey recipes out there. Healthy, easy to make, and loaded with flavor, it is one of my go-to recipes for leftover turkey! With this recipe from TheCleanEatingCouple.com, you'll have a nutritious turkey meal that can be enjoyed alone or paired with bread or a salad.
Lettuce Wraps
This recipe from SkinnyTaste.com is a sure way to eat light, healthy and low-carb after indulging in the heaviness of a Thanksgiving feast! Because these wraps are made with lettuce leaves in place of bread, this recipe is gluten-free and low calorie but will not disappoint on the flavor scale. You can also adaprt the ingredients if you're following a keto or paleo diet. In addition to turkey, these wraps can be made with chicken or steak. I like to make my wraps with corn, bell peppers, black beans, and a reduced fat cheese (I suggest the Mexican cheese blend) and top it off with sour cream or this Avocado Cilantro Ranch Dressing.
Written by Angela Gordon