WORKING OUT IS MORE FUN WITH A FRIEND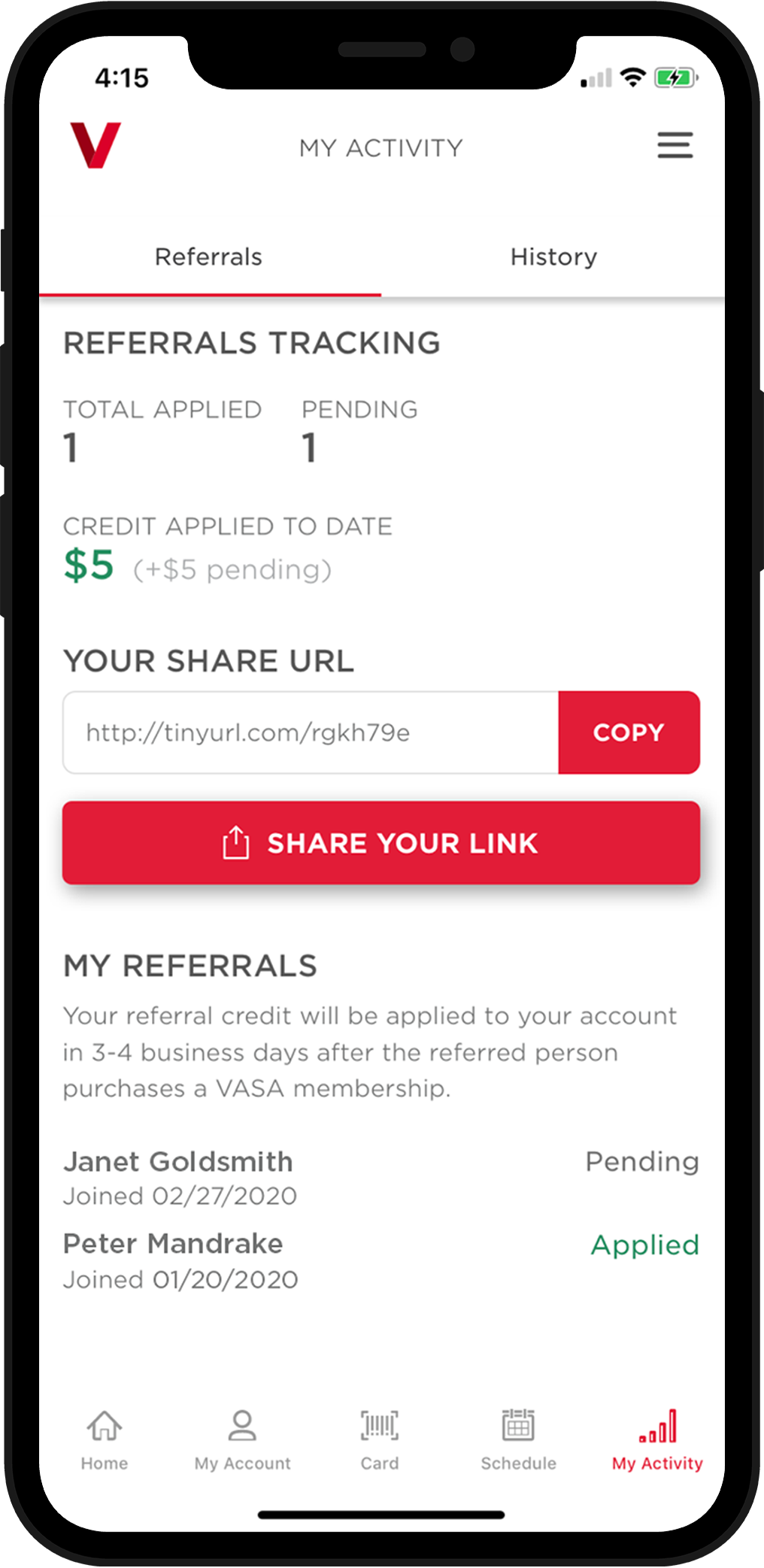 Don't forget to book your complimentary Personal Training Session! This is designed to teach you how to customize your training and elevate yourself to the next level.
THE VASA FITNESS $10,000 MEMBER REFERRAL GIVEAWAY
ALL member referrals entered through the VASA Fitness Membership Referral Program will be automatically entered into the VASA Fitness $10,000 Member Referral Giveaway, and subject to the following terms and conditions.
NO PURCHASE NECESSARY. VOID WHERE PROHIBITED BY LAW AND OUTSIDE UNITED STATES. SUBJECT TO ALL FEDERAL, STATE AND LOCAL LAWS, REGULATIONS, AND ORDINANCES. THE VASA FITNESS $10,000 MEMBER REFERRAL GIVEAWAY ("GIVEAWAY") IS SPONSORED SOLEY BY VASA FITNESS, LLC ("SPONSOR"), 1259 S 800 E, OREM UT 84097, AND IS NOT ENDORSED OR ADMINISTERED BY OR ASSOCIATED WITH ANY ONLINE PLATFORM INCLUDING FACEBOOK OR INSTAGRAM. ODDS OF WINNING DEPEND ON NUMBER OF ELIGIBLE ENTRIES RECEIVED. GIVEAWAY STARTS FEB 1, 2021 (12:00:01am MT) AND ENDS Feb 28, 2021 (11:59:59pm MT).
OFFICIAL RULES:
1. ELIGIBILITY: The VASA Fitness $10,000 Member Referral Giveaway ("$10,000 Giveaway") is open only to legal U.S. residents who are 18 years of age as of the date of entry. Employees of VASA Fitness and its affiliates and subsidiaries, and their "plus-one" family members are excluded from participating in the Giveaway.  Automated or bulk entries or entries submitted by third parties are not eligible.
2. GIVEAWAY PERIOD: Entries for the $10,000 Giveaway will be accepted beginning Feb 1, 2021 (12:00:01am MT) and ends on Feb 28, 2021 (11:59:59pm MT).
3. HOW TO ENTER: There are three (3) ways to enter:
(a) Current Members. Current members who refer a friend, family member or co-worker via the VASA Fitness App Member Referral Program will be entered together with the referred member. Each referral that results in an active membership account during the Giveaway Period (a "Referral Entry") will count as (1) entry. There are no limits on the number of eligible Referral Entries for any current member. You may only refer persons with whom you have an existing personal relationship and with whom a message from you would not be considered spam. Referred members may not be registered as a current VASA member under any name or alias.
(b) New Members. New members who have signed up using a unique referral link provided by a Current Member via the VASA Fitness App Member Referral Program (see above).
(c) Enter Without Purchase (Mail-In). To enter the Giveaway by mail, any person who is otherwise eligible to enter under these Official Rules may submit a postcard with the following information (in the following order): the words "VASA Fitness $10,000 Member Referral Giveaway" at the top, followed by their full name, email address, complete street address, daytime telephone number, and mobile phone number (if different from daytime telephone number), to:
VASA Fitness Corporate Office
1259 South 800 East
Orem UT 84097
Attn: VASA Fitness $10,000 Member Referral Giveaway
Mail-in entries must be post-marked on or before February 28, 2021 and received before March 3rd, 2021 in order to be included in the Giveaway. All mail-in entries must be typewritten or legibly hand printed and have sufficient postage affixed. LIMIT ONE (1) MAIL-IN ENTRY PER PERSON.
4. PRIZE: $10,000.00 to be split equally by the referring member and the new member. The Giveaway prize is considered income and is generally subject to various federal, state and local taxes. Winners will be required to provide VASA Fitness with all necessary tax information prescribed by law to receive the cash prize, including a social security number and W-9.
5. SELECTION OF WINNER: Each referral generated through the VASA Fitness Membership Referral Program will generate a Referral Entry for the Current Member/New Member. On March 5th, 2021, a random drawing will be conducted by independent third-party administrator from among all eligible and timely Referral Entries and Mail-In Entries combined. Odds of winning are based on the number of eligible entries received during the Giveaway Period.
6. NOTIFICATION OF WINNER: Potential winners will be notified by [phone, email, text] and must respond to the notification within 48 hours. VASA Fitness reserves the right to require reasonable evidence documenting winner's eligibility, and further reserves the right to void any award to any participant who is not eligible to win under these rules. Potential winners may be required to complete, sign and return an affidavit or declaration of eligibility, a liability release, tax forms and where lawful, a publicity release within a stated period of time. The return of any notification as undeliverable or failure to respond to notices or return any required documents or information in a timely manner or a determination that a potential winner is ineligible or not in compliance with these Official Rules, as determined by VASA Fitness, in its sole and absolute discretion, may result in disqualification of the winner and forfeiture of the corresponding prize, and the choosing of an alternate winner. All winners will be announced on utilizing social media no later than March 8th, 2021.
7. CONDITIONS OF PARTICIPATING: All member referrals entered through the VASA Fitness Membership Referral Program will be automatically entered into the Giveaway, and all entrants, including members, new members and mail-in participants, agree to be fully and unconditionally bound by these Official Rules, and the decisions of Sponsor, and waive any right to claim ambiguity in the Giveaway itself or to the Official Rules. If for any reason the Giveaway cannot be executed as planned, including but not limited to infection by virus, bugs, tampering, unauthorized intervention, fraud, technical failures, social media mandate, or any other causes beyond the control of Sponsor that corrupt or affect the security, administration, integrity, fairness or proper conduct of this Giveaway, or if this Giveaway is compromised or becomes corrupted in any way, electronically or otherwise, Sponsor reserves the right, in its sole discretion, to void suspect entries/entrants and/or modify, suspend and/or terminate this Giveaway. If the Giveaway is terminated before the stated end date of the Giveaway Period, Sponsor may select the winners in a random drawing from among all applicable eligible, non-suspect entries received as of the time/date of termination.
8. LIMITATIONS:  Neither Sponsor nor Administrator is responsible for: (a) electronic or digital transmissions, entries or mail that are lost, late, stolen, incomplete, illegible, damaged, garbled, destroyed, misdirected, non-delivered, or not received by Sponsor for any reason; (b) mail that is received postage-due (c) any problems or technical malfunctions, errors, omissions, interruptions, deletions, defects, delays in operation of transmission, communication failures (including but not limited to failures or malfunctions of phone lines, mail delivery service, telephone systems or other communications systems), destruction of or unauthorized access to, or alteration of, entries, or for printing, distribution or production errors; (d) failed or unavailable hardware, network, software or telephone transmissions; (e) damage to entrants' or any person's computer; (f) causes beyond Sponsor's reasonable control that jeopardize the administration, security, fairness, integrity or proper conduct of this Giveaway; (g) incorrect or inaccurate entry information whether caused by entrants or by any of the equipment or programming associated with or utilized in the Giveaway; (h) any typographical or other error in the printing or advertising related to the Giveaway, in the administration or execution of the Giveaway, or in the announcement/notification of prize winners; (i) by any human, or other error, which may occur in this Giveaway; or (j) cheating or fraud by any participant. All incomplete or non-conforming entries (as determined by the Sponsor in its sole and absolute discretion) will be disqualified.
9. RELEASES: By participating in this Giveaway, participants agree (and agree to confirm in writing): (a) to the maximum extent permitted by law, that all causes of action arising out of or connected with this Giveaway, or any prize awarded, shall be resolved individually, without resort to any form of class action; (b) to release, defend, indemnify and hold harmless Sponsor, Administrator, and any platform (e.g. Facebook, Instagram, Twitter etc.) and their respective successors and assigns from and against any liability, loss, claim or cause of action, including, but not limited to, injury, death or damages arising out of participation in this Giveaway or the acceptance, possession, use or misuse of any prize received in this Giveaway or the use of any entry; and (c) to waive all rights to claim punitive, indirect, incidental and consequential damages, attorneys' fees, court costs, or any damages other than actual out-of-pocket costs incurred to enter, and any and all rights to have damages multiplied or otherwise increased. SOME JURISDICTIONS DO NOT ALLOW THE LIMITATIONS OR EXCLUSION OF LIABILITY FOR INCIDENTAL OR CONSEQUENTIAL DAMAGES, SO APPLICABLE PORTIONS OF THE ABOVE MAY NOT APPLY TO YOU.
10. PUBLICITY:  Except where prohibited, participation in the Giveaway constitutes each entrant's permission for the Sponsor and its agencies to use entrants' names, photographs, videos, voices and/or any other likenesses for purposes of advertising and publicity in all media now known or hereinafter invented without territorial or time limitations and without compensation or notice.
11. PRIVACY:  The personal information collected through this Giveaway is subject to Sponsor's Privacy Policy located at vasafitness.com/privacy. By entering this Giveaway, each participant agrees that Sponsor, its agents and/or representatives may store, share and use the personal information submitted with participant's entry for the purpose of administering the Giveaway and agrees to the collection, use and disclosure of participant's personal information as described in these Official Rules, in the above Privacy Policy and as permitted by law.
12. DISPUTES, CHOICE OF LAW, JURISDICTION AND NOTICE:  Decisions of Sponsor are binding and final. No claimant in any dispute involving Sponsor or the Giveaway shall be entitled to claim or obtain indirect, punitive, incidental or consequential damages. Sponsor's failure to enforce any provision in these Official Rules shall not constitute a waiver of that provision. All issues and questions concerning the construction, validity, interpretation, and enforceability of these Official Rules, or the rights and obligations of the entrant and Sponsor in connection with the Giveaway, shall be governed by, and construed in accordance with, the laws of the State of Utah, without giving effect to any choice of law or conflict of law rules which would cause the application of the laws of any jurisdiction other than the State of Utah. By entering, participants irrevocably consent to the exclusive jurisdiction of the federal and state courts located within the county of Salt Lake, Utah for any action, suit or proceeding arising out of or relating to this Giveaway.
13. SEVERABILITY & CONFLICTS: The invalidity or unenforceability of any provision of these Official Rules shall not affect the validity or enforceability of any other provision. In the event that any provision is determined to be invalid or otherwise unenforceable or illegal, these Official Rules shall otherwise remain in effect and shall be construed in accordance with their terms as if the invalid or illegal provision were not contained herein. In the event there is a discrepancy or inconsistency between disclosures or other statements contained in any Giveaway-related materials or made by any representative of Sponsor, and the terms and conditions of these Official Rules, these Official Rules shall prevail, govern and control.
14. WINNERS' LIST:  All winners' names will be announced and available on Instagram and Facebook after winner validation has been completed.
15. SPONSOR: The Giveaway is sponsored solely by VASA FITNESS, LLC, 1259 South 800 East, Orem Ut, 84097; Attn: VASA Fitness $10,000 Member Referral Giveaway, and is in no way sponsored, endorsed, administered by or associated with Facebook, Instagram, You Tube, Twitter, or any other electronic platform.
16. VASA FITNESS MEMBERSHIP REFERRAL PROGRAM TERMS: The VASA Fitness Membership Referral Program provides current members the opportunity to earn a monetary credit against their next monthly membership dues when someone they've referred signs up using their unique referral URL link, accessible via the VASA App. These Official Rules apply solely to the Giveaway, and nothing contained herein shall relieve participants from complying with those terms and conditions of the Membership Referral Program relating to the monetary credits.